As already mentioned,
Parade Magazine's
"What People Earn" 2008 installment was recently published, and the poor people of Mindless Media came across a salary that caught their attention. A dental assistant in Pleasant Prairie, Wisconsin makes $41,000 a year.
We immediately wondered what the cost of living would be in a place like Pleasant Prairie, or in neighboring Villages of Kenosha County, Wisconsin. Turns out, even for someone living in a big city like Milwaukee, the average cost of living is 37% cheaper then it is in New York City, and a whopping 39.1% cheaper than Los Angeles.
Someone making $41,000 a year in New York City (we should all be so lucky) could maintain the same standard of living in Milwaukee for a mere $25,836; The most noticeable differences being in housing and health care expenses..
Those who actually make $25,836 in New York City will tell you that if their expenses were 37% cheaper, they would probably be a lot happier. Maybe even have a car...go on vacations...you know, stuff people do with money. You'd still be poor, of course; but mathematically, you wouldn't be
as
poor.
CNNMoney's #1 Place to Live in the US in 2007?
Middleton, Wisconsin
Population:
17,400
Median home price (2006):
$290,269
Average property taxes (2005):
$5,067
Pros:
Small-town charm; booming economy; extensive parks and bike trails
Cons:
Do you like winter?
Many Middletonians commute to Madison, but Middleton proper has a strong pool of jobs too, mainly in the pharmaceutical, tech and medical industries. After business hours, Middleton has more going on than you might expect for a town of 17,000. The beer garden at the Capital Brewery is host to corporate mixers, and there are good restaurants downtown
Now that sounds quaint! There are even more Wisconsin cities on the top 100, including Germantown, New Berlin, and Franklin. There must be something in the water...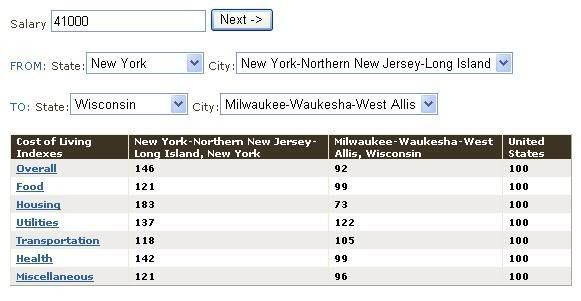 "Cost of Living"
calculator? Believe it! It's more fun than
Famousr.com
.
The obvious conclusion:
We should all move to Wisconsin.
And it's
just lovely
.
Consider your secret
out
.
Elizabeth Stolfi
Corporate Cog
Mindless Media
A Genericorp Company